Ready to get ahead in a well-paid career that doesn't make you work all year round?
Industry-leading Experienced Facilitators
Course Duration: 4 Week course
Earn Industry Certification
Delivery Mode: Face-to-Face
Core PDR Hail is a four-week, hands-on certification to kickstart beginners into a career in Hail Repair. As part of the Paintless Dent Removal (PDR) industry, a Hail Repair Technician is a sustainable and financially rewarding career that gives you flexibility. Whether you want more time to be with your family or mates, more money to go traveling or take time off – or a career that gives you the freedom to call your own shots, Hail Repair can deliver.
From quoting repairs, learning methods of repair and completing your own damaged car to industry standard, this intensive course will give you the confidence, ability and support to make money right out of the gate – and begin your Hail Response career.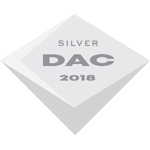 HOW IT WORKS
Learn the basics to get started and take on any door dent challenge

 Industry recognised

 Confidently repair light to medium hail-damaged vehicles

 Quote and assess vehicles for hail damage

 Career opportunities with multiple hail companies

 Given you own damaged vehicle to fix

 6-month post-course support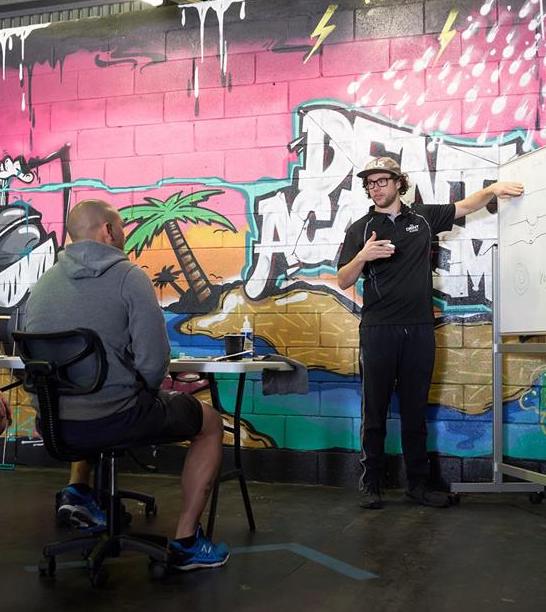 WHAT YOU WILL LEARN
Your Roadmap from Beginner to Core PDR Certified
Week One
Educate
Tools & Usage + Cart Set-up
Remove, Refit and Access
PDR Lights
Tool Control
Tapping Down
Round Dent Repair
Week Two
Educate
Cross-Checking
Crease Repair
Panel Shapes
Panel Tensions
Soft Tips
Metal Movement 
Week Three
Grow
Directional Pushing
Polish & Paint Rectification
Glue Pulling Repair
Hammer Blending
Tapping Up
Week Three
Grow
Hammer Tap Down
Hold and Tap Down
Push to Paint Standards
Vehicle Repair Procedure
Hail Quoting and Check-In
Setting you up for Success
The Dent Academy graduates are not just sought after, they're the ones raking in the highest earnings in the industry. What sets us apart? It's not just our cutting-edge curriculum or world-renowned trainers. It's our holistic approach to training that makes all the difference.
In just four weeks, you'll experience a transformation like never before. Our strategy sessions, led by seasoned business coaches, marketing maestros, and tax experts, will be your gateway to success.
Unlock Your Potential with Accounting, Tax, and Business Structure – Valued at $2,250
A personalised one-hour strategy session that tailors your business structure to perfection.
ASIC business name registration
ABN and ACN registration
Company structures and share issuance
Tax planning
Ignite Your Business Breakthrough – Valued at $990
Our business coaches will guide you through a transformative 5-step journey, fueling your success at every turn.
Unload the weight of challenges
Clarify your purpose
Anchor your goals
Prioritize actions
Commit to achieving greatness.
Your business coach will then host six and tweleve month phone call to hold you accountable.
Master Sales and Marketing – Valued at $990
Being a top-tier PDR technician is impressive, but without mastering Sales and Marketing, your skills remain hidden. Our experts bridge the gap, turning your skillset into cold, hard cash. Leave the course armed with:
Brand identity
Professional business cards and flyers
A sleek business website and email solutions
a killer media strategy, and workflow efficiency secrets.
But wait, there's more! As a proud graduate of The Dent Academy, you'll unlock a treasure trove of discounted services to boost your business:
Administrative Excellence: Streamlined support to keep your business running smoothly.
Content and Marketing Mastery: Elevate your brand presence with expert content and marketing management.
Tech and Hosting Heroes: Reliable website hosting and IT support to keep you at the top of your game.
PDR Technician Directory: How you will get known within the industry and obtain work anywhere in the world
Post-Course Support & Mentoring
We want you to feel confident and armed to take on any hurdles that may arise when you start out doing your first repairs. So, for the next 6 months after your course, we're on hand for you to turn to with any questions, hiccups or problems you run into.
Additionally, you will have access to the following 4 Super Sessions:
Session 1: This session will troubleshoot any questions or issues you have around invoicing and accounts.
Session 2: This session will provide support and answer your questions you have around a specific problem, repair or job.
Session 3: This session provides networking opportunities to kick start you in the PDR industry so you're well-connected and can find work.
Session 4: This session is your opportunity to bring any questions you still have to the table to be answered.
Course Tool Kit Options
Walk away with every tool you need to show up to a job looking the part and having everything you need. You have the option of a 40 or 65-piece tool kit to kickstart your PDR career. Alternatively, BYO if you already have tools!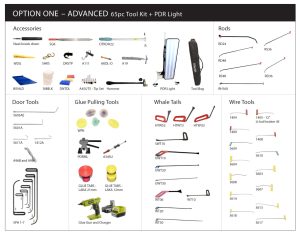 Career Opportunities
One of our main driving factors of creating The Dent Academy was to create reliable PDR technicians we can count on to deliver outstanding work. Upon graduating Core PDR Hail, you may be presented with an opportunity to join Hail Response Team or provide your resources to CMT Scanner. If we can't supply work, we'll do our best to position and introduce you with industry players who may be able to provide work.
Ready to take the next step?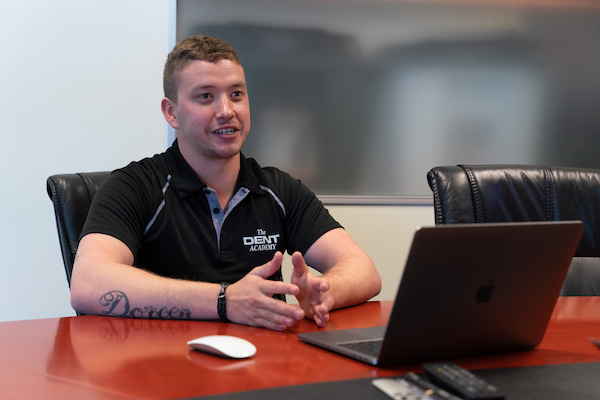 John Ashton
Founder of The Dent Academy & Hail Response Team (HRT)
Beginning his career as an apprentice boat builder, John transferred his skills into Paintless Dent Removal (PDR) and started working with world-class technicians across 4 different countries. From repair work directly for vehicle manufacturers to fixing brand new cars before they were shipped worldwide, John has personally repaired over 1000 vehicles - earning him a consistent 6-figure income per year.
Arriving home, he realised he could raise the standard of Australia's PDR industry. Hail Response Team was created and specialises in catastrophic hail repair and damage. John prides himself on creating nothing less than perfection from both himself and his students and is determined to produce an end finish that is considered unachievable in the industry.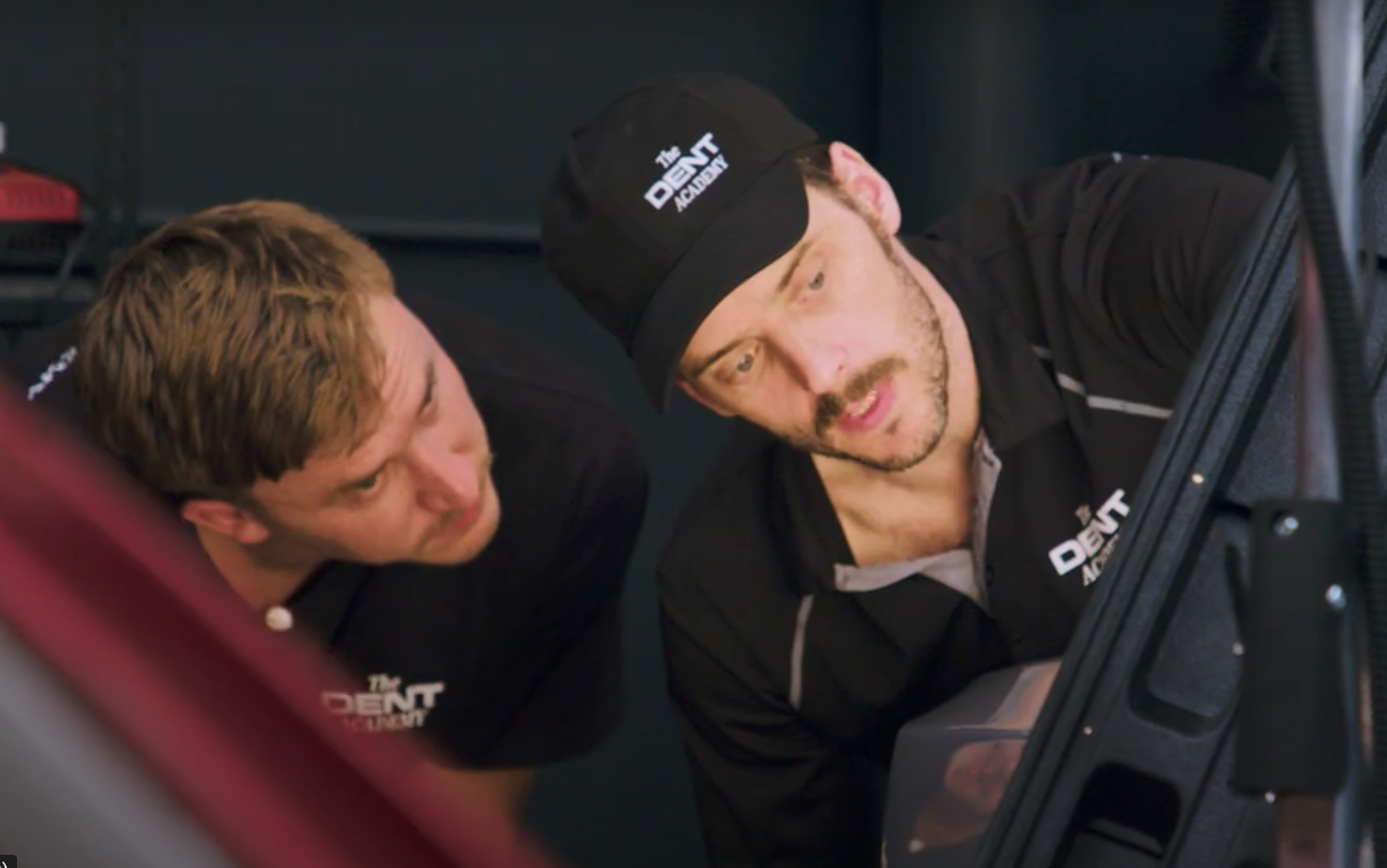 Darren Bagnasco
General Manager of The Dent Academy
Before venturing into the world of Paintless Dent Repair (PDR), Darren's story began as a water sports instructor. While backpacking through Europe, destiny intervened when he crossed paths with a PDR technician. This intriguing encounter revealed a hidden world where one could work just a few hours a day and yet earn substantial rewards. This chance meeting sparked Darren's curiosity and marked the genesis of his profound connection with the art of PDR.
Darren's journey took him far and wide, traveling the globe and collaborating with various Hail Repair Companies and Panel Shops. His experiences have forged a treasure trove of knowledge and expertise that is truly unparalleled. Now, as an integral part of The Dent Academy, Darren's wealth of insights enriches the learning experience like never before.
Combining his extraordinary real-world experiences with the Academy's exceptional curriculum, Darren possesses the exceptional ability to mold individuals into top-tier PDR technicians. His skills and passion guarantees to transform anyone into a high-performing PDR virtuoso.
I had absolutely no prior knowledge of what Paintless Dent Removal was or how it was done. I found the training very hands-on, engaging and practical.
"After the 4 weeks, I'm definitely confident I can go out there and apply myself and do the job … with the support and education these guys give you, I was ready to go out and do the tasks on my own."
Darryn Jones
The Dent Academy Student
Interested in enrolling in our Core PDR Hail course?