Online PDR Starter Course
You will be guided through the theoretical and practical steps to mastering the art of PDR. This will be achieved by being part of our online learning platform to work through the 10 subjects delivered across a total of 60 modules. Implementing each exercise on the practical panels and stands delivered straight to your door. 
As a result, you will be able to achieve the highest possible standards in the comfort and convenience of your own space and time. 
HOW IT WORKS
Learn, Apply and progress through the modules with the support of your trainer
Access to The Dent Academy Online Learning Platform
10 Subjects, delivered across 56 modules 
Real life video tutorials
3D Animation framework
Live Questions and Answer Sessions with your trainer
Physical training panels and stands delivered to your door
Post course support and coaching
Discounted entry into a future in-person course to access the practical training.
To find out more and to register your interest, please call 1800 001 832.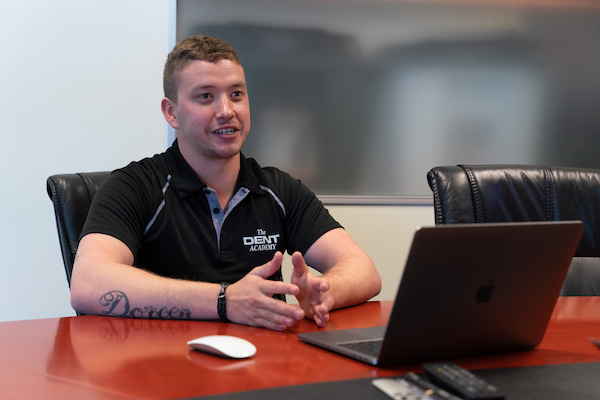 WHAT YOU WILL LEARN
Your Roadmap from Rookie to Dents & Dings Certified
PDR Light
Tool Control
Tapping Down
Round Repair
Feather Tap
Panel Scanning
Cross Checking
Crease Repair
Directional Pushing
Soft Tip
I had absolutely no prior knowledge of what Paintless Dent Removal was or how it was done. I found the training very hands-on, engaging and practical.
Interested in enrolling in our PDR Starter Course?